Vision:
A food secure & resilient Philippines with empowered & prosperous farmers & fisherfolk
Mission:
To empower farmers and fisherfolk through collective action and attract private sector investments with inclusive agribusiness towards agricultural efficiencies, productivity, sustainability and resilience
Twin Goals:
Masaganang ANI at Mataas na KITA
Anchored on the Philippine Rice Industry Roadmap (PRIR), Rice Program upholds to the achievement of the goal of "a globally-competitive local rice industry as foundation for food security and farmer's prosperity"
The NRP contributes mainly to the following objectives:
Improve competitiveness and farmer's income;
Improve resilience to disasters and climate risks; and
Ensure access to safe and nutritious rice.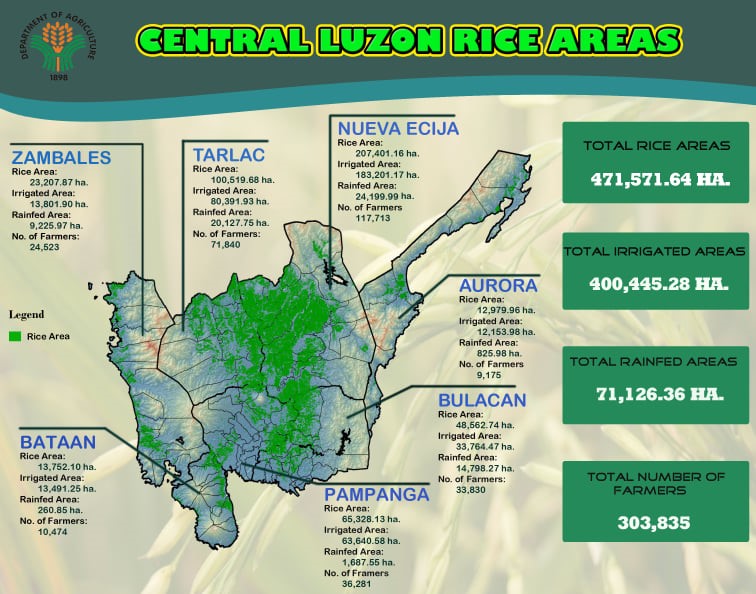 Interventions for Fiscal Year 2021

Production Support Services
Yield Enhancing and Cost-Reducing Interventions

Commercial Hybrid Rice Seed

Disaster Response: Buffer Stocking (Registered and Certified Seeds)
Extension Support, Education and Training Services
Information Dissemination
Generation of RCM Recommendations
Incentive Allowance for LGU-AEWs, AFCs and LFTs
Research and Development
DA-IRRI Collaboration

Pest Risk Identification and Management (PRIME)

Strategic RDE Support

Mushroom on Station Modules

Rice Productivity and Cost Reduction Studies for Rainfed and Irrigated Lowland Ecosystems

Mechanization Assessment and Database Establishment

Regional Rice R4D Projects
Collaborative R4D with Other Institutions
Irrigation Network Services
Solar-Powered Fertigation System (SPFS). A modern technology that will redefine irrigation application as production efficiency by reducing production cost and to have an accurate irrigation and fertilizer application
Agricultural and Fishery Machinery, Equipment, and Facilities Support Services
Four-Wheel Drive Tractors. More efficient because it can deliver 10% more power to the ground for the same fuel consumption, and have much better traction and flotation capabilities, thus, improving the quality of land preparation. In addition, this machinery lessen the time devoted for land preparation in areas affected by typhoons and floods. This machinery can perform well for both dry and wet conditions ensuring that weeds and stubbles will be incorporated thoroughly into the soil for proper decomposition that could minimize weed growth and facilitate distribution of irrigation water.
Hand Tractors. A multi-purpose equipment since the engine can be utilized for irrigation purposes as well as in transportation of farm inputs and produce.
Combine Harvesters. In using this machinery, threshed grains are directly placed in the sack and is ready to be sold at reasonable farm gate price reducing the stress and health risk of farmers from sun-drying. This machinery is proven to minimize production losses and fast-track harvesting operation as well as minimizing the cost of harvesting and threshing expenses.